Pick Six #16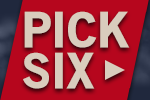 Dzisiejsze nasze spotkanie rozpoczynamy od sprawozdania Łukasza Dudki ze swojej wizyty w Detroit. Ponadto podsumujemy wydarzenia z NFL, NCAA oraz PLFA!
W ubiegłą niedzielę gościliśmy (w imieniu Łukasza Dudki) w Detroit na meczu Lions – Bears. Jak wyglądał ten mecz od środka? I jak wygląda to na innych stadionach? O tym posłuchacie już na samym początku naszego podcastu. Następnie podsumujemy to co działo się w NFL przez miniony tydzień, jak również spojrzymy na układ sił poszczególnych drużyn. Remigiusz Czyżewski opowie wam co działo się w ligach uniwersyteckich, a Kuba Kaczmarek zda sprawozdanie z wydarzeń w naszej rodzimej PLFA.
Jak zwykle odpowiemy na zadane przez Was pytania, a na koniec luźno porozmawiamy o tym, jak wyglądają nasze niedziele z NFL. A właśnie… może sami nam opowiecie jak to u Was wygląda? 😉
Nie przedłużam, bo podcast mówi sam za siebie i warto przy nim spędzić spokojny wieczór i zanurzyć się z nami w półtora godzinną podróż po futbolu amerykańskim. Nie tylko merytoryczną, ale i wizualną 🙂
Zachęcamy również do obejrzenia naszego specjalnego wydania Pick Six, w którym Tomasz Piątek bierze pod lupę formację defensywną Denver Broncos!