Pick Six #10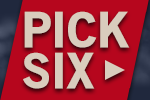 Zaczynamy! Wielkie otwarcie nowego Pick Six właśnie dzisiaj. Nowi prowadzący, nowy format, więcej tematów i (co najważniejsze) więcej wiedzy!
Pick Six wchodzi na wyższy poziom! Razem z nowymi prowadzącymi: Łukaszem Dudką (założycielem Football Fantasy Polska oraz "żywa encyklopedia" futbolu), Łukaszem Kądziołką (dawnym zawodnikiem Kraków Tigers, który swoje futbolowe pasje przeniósł do Norwegii), Kubą Tłuczkiem (znanym z poprzednich podcastów, zastępca redaktora naczelnego NFL24.pl) oraz Kubą Kaczmarkiem (redaktorem naczelnym NFL24.pl) dostarczymy wam największą, w Polsce, dawkę wiedzy o futbolu amerykańskim!
Podcast złożony jest z sześciu segmentów (Rozgrzewka, Rzut Monetą, Przerwaaa!, Tour de PLFA, 5 kwarta oraz Overtime). 5 kwarta, to część specjalnie dla Was, gdzie odpowiemy na wasze pytania, sugestie i inne tematy. Z tego względu niebawem powstanie nowy fanpage, gdzie będziecie mogli aktywnie śledzić kolejne odcinki naszego podcastu.
Gotowi? No to zaczynamy 🙂
Jeśli chcecie ściągnąć plik i posłuchać go w drodze do szkoły, pracy, czy po prostu na słuchawkach, link macie poniżej.